---
Save your baby from this syndrome!
A lying position that is too flat can, in the worst cases, lead to sudden infant death syndrome.
The number of babies who develop a flat back of the head (flat head syndrome) has increased since parents think they "just" let the baby sleep on its back.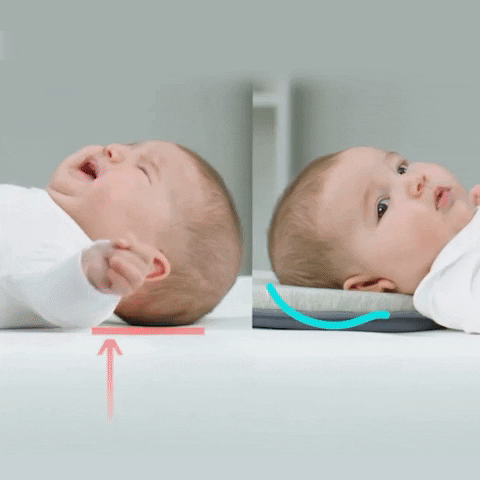 RelieflyLab's orthopaedic baby bed is therefore indispensable for every baby. RelieflyLab puts your baby in a healthy and correct lying position.
This not only ensures that your baby can sleep comfortably through the night, but can also protect him or her from flat head syndrome.
RELIEFLYLAB - BENEFITS FOR YOUR BABY
👶🏼 Can reduce the risk of the flat head syndrome
👶🏼 Puts your baby's head in the right position
👶🏼 Improves digestion
👶🏼 Supports and protects the baby's head
LIKE IN MUMMY'S BELLY
Thanks to the narrower space, your baby will still have the safe and secure feeling of being in the womb.
PERFECT FOR THE AFTERNOON NAP
RelieflyLab's Baby Bed is the ideal place to cuddle, nappy change and sleep.
IMPORTANT TO KNOW
The top head hollow with memory function relieves the pressure on your baby's head and can prevent bald spots and head deformation.
The leg pad on the underside is attached with Velcro and can thus be individually adjusted to your baby at any time
In addition, RelieflyLab enables an ergonomic leg and foot position, which can positively improve digestion.
OTHER ADVANTAGES WITH RELIEFLYLAB
👶🏼 Simple, light & handy

👶🏼 Flexible foot and leg support

👶🏼 Promotes a sense of security, comfort & digestion

👶🏼 Machine washable (max. 30 degrees, then air dry)

👶🏼 Compact design - perfect for tearing or the pram

👶🏼 Soft inner lining
Specifications
Material: Cotton & polyester filling

Colour: Grey, Blue & Brown

Size: 55x38x5cm (deviations due to manual measurement possible)

Age: 0-4 months - depending on size & physical development of the child


Flexible: The foot & leg rest can be removed and adjusted at any time by means of Velcro on the underside
Usage advice:
Our baby bed is designed to relieve the head & provide a softer surface for the baby to lie on. As our little ones like to move, kick or turn and to avoid danger, we ask for constant supervision of the baby.
The RelieflyLab® CloudWalk Pro were specially developed for people with chronic foot pain and are used for ergonomic pain relief.
The shoes are also suitable for active and sustainable prevention of possible future foot problems. The shoes are
particularly recommended for problems such as:
Plantar fasciitis
Arthritis
Ankle pain
Swelling
Heel spur
Hallux valgus
Achilles tendonitis
Flat feet
Knee, hip and back pain.

Even without pain, the shoes are excellent for taking preventive action against foot pain.
The RelieflyLab® CloudWalk Pro are made of a robust and at the same time very elastic upper material that optimally adapts to the shape of the foot.
optimally adapts to the shape of the foot.

This makes them suitable for both narrow and wide feet.

To find out which size is right for you, please refer to the size chart (above the selection fields).

Our RelieflyLab® series includes different models for women and men.
Comfortable, pain-free walking & running all day long
Instant pain relief with comfortable pressure & foot padding
Improved blood circulation in the foot and heel muscles
Perfectly fitting (for all foot shapes)
Natural arch support (column and lateral support)
Innovative prevention function (for a problem-free future)

Foot pain affecting your life? - Here's the solution
Millions of people in UK suffer from foot pain ! Problems like plantar fasciitis, hallux valgus, arthritis, or heel spurs can be painful and disabling. 
Finding comfortable, supportive and stylish shoes is often a challenge.
Many of those affected are familiar with disappointments and limitations in everyday life.
Our solution: RelieflyLab® CloudWalk Pro - orthopedic, ergonomic and pain-relieving shoes that combine functionality & fashion to offer mobility, comfort and pain relief at the same time.

RelieflyLab® CloudWalk Pro
Help relieve foot and heel pain. Particularly suitable for sensitive feet and people with mobility problems.
High-quality orthopedic insoles: with arch support, foot and posture are realigned.
Wide toe box: relieves pressure on puffiness, bunions and hammer toes.
Soft, padded inner material: without seams, avoids irritation and offers optimal protection for sensitive feet.
Stretchy upper material: adapts perfectly to the contours of your feet and provides pressure relief for sensitive feet.
Springy sole with rolling effect: improves walking comfort and gives your step more momentum.
Robust outsole: offers improved grip and excellent stability.


The 2023 test winner among orthopedic shoes!
More than 5,000 happy customers already rely on our RelieflyLab® Shoes

Work pain free
"As a nurse, I'm always on my feet. The CloudWalk Pro shoes are a life saver! Comfortable, light and stylish - my feet thank me!"

Help with heel spurs
"Heel spurs made every step painful. With the CloudWalk Pro shoes I can finally walk pain-free again. A real relief!"

Run without pain
"Thanks to CloudWalk Pro, I can finally enjoy long walks with my husband again! Pain-free, comfortable and stylish - just wonderful!"

Quality and durability meet design
Comfort and support shouldn't come at the expense of style and design.

Therefore, when developing the RelieflyLab® CloudWalk Pro, we focused on creating a perfect balance between functionality and fashion .We pride ourselves on being able to offer orthopedic and pain-relieving shoes that look both comfortable and functional as well as aesthetically pleasing.

Our shoes are made from breathable and high quality materials for maximum durability and durability. Thus, comfort and freedom for your feet are guaranteed with the CloudWalk Pro.

OrthoGrip® - The innovative sole technology
Our specially developed OrthoGrip sole technology is the result of years of development. The "OrthoGrip" sole provides a springy effect to optimize shock absorption & improve heel-to-toe movement, thus relieving pain . In addition, a particularly non-slip material for maximum safety and stability when walking.
The springy effect of the sole reduces stress and pain in the feet, ankles and knee joints, while the non-slip material ensures that you walk with a secure footing on any surface.

With us you will find experts united under one roof
As an emerging provider of orthopedic footwear, we pride ourselves on being able to offer a unique combination of experience, expertise and craftsmanship.

We work closely with Orthopaedists, podiatrists and shoe technicians to ensure that every shoe is perfectly customized to your needs.
As a customer, you can count on us to do our best every day to improve your foot health and make your life more comfortable .
RELIEFLY® SATISFACTION GUARANTEE
With over 20,000 satisfied customers, we have proven the effectiveness and quality of our products.
 So we can confidently promise a 100% satisfaction guarantee. If you have any questions, simply contact our competent customer service. We will take care of you immediately.
Order now and benefit from our discount campaign and free shipping!
Excellent
4.7/5 stars rated.
Based on 2,365 reviews.

I can confidently say that these are the best shoes I have ever worn, besides being super fashionable they are really super comfortable.
They put me in a good mood, I call them my happy shoes!
After a long day at work, I always had burning feet and very often pain in my calves. I've been wearing the shoes for 2 weeks now, including the insoles. What can I say...no more pain and burning sensation. It was the right decision!
After waiting a little longer, I am very satisfied. Very pleasant comfortable ergonomic shoe. I wore this for 12 hours at work and the soles of my feet didn't burn and no other complaints either. Like walking on clouds. In addition, the insoles, which were a bit too long, I simply shortened about 1.5 cm, otherwise a small bulge formed inside the shoe. Perfect after the small cut 😁. I can definitely recommend!! Thank you for this great shoe.
Bought as a birthday present for my wife as she has recently been suffering from severe foot pain on our daily walks. Not anymore with this shoe! Clear purchase recommendation, many thanks to the RelieflyLab team
I really love this shoe, it is very comfortable and by wearing it I finally got rid of my foot pain!!! The color & the design is also amazingly beautiful.
I bought them for my work at the hospital. I get a lot of compliments, thank you!
I have 2 pairs of the trainers one blue one green. They are very comfortable and I get lots of lovely comments when wearing them. I have wide feet and am on them for 12+ hours a day.
Shoes and insoles are great, cut insoles and you're done.
Standing in the shoes is not uncomfortable, even from 7 a.m. to 6 p.m.